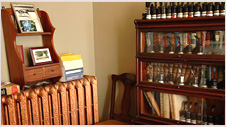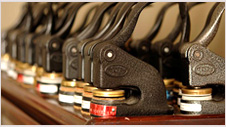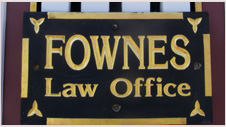 About Us - Firm Profile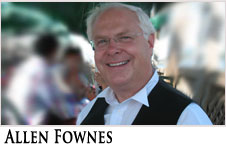 Fownes Law Offices is full service law firm located in Nova Scotia with offices in Halifax, Queens County and Shelburne County. Fownes Law maintains the principles of competence, integrity and trust. It is the belief of the firm, its associates and employees that law is a tool to be honoured, respected and utilized for the betterment of our family life, communities, and our Nation.
The firm was established in 1985 upon Allen Fownes' admission to the Nova Scotia Bar, in his home town of Liverpool, Queens County, Nova Scotia.
In 2015 Allen Fownes (click here for more information on Allen) celebrated his 30th year at the bar and as a successful general practitioner in both a small town and rural setting, as well as enjoying a metropolitan practice in Halifax and as a Foreign Legal Consultant in New York City.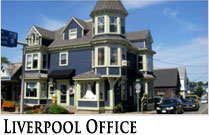 The Liverpool Office is a general practice serving Queens and Lunenburg counties, serving buyers and sellers of real estate, small business owners, personal and corporate financial planning, estates and probate, wills and trusts, civil litigation including Quieting Titles matters, boundary dispute resolution, appeals, probate and contested probate, fisheries law, personal injury law, and services to the primary industries of fishing, forestry and tourism.
The firm has experience in corporate law including incorporations, reorganizations, restructuring, creditor arrangements, amalgamations and corporate succession planning.
The firm refers clients, when appropriate, to specialist practitioners and enjoys a healthy referral practice from other law firms, accounting firms, and other contacts within Nova Scotia's business community.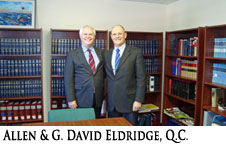 The firm acquired the Barrington law practice of G. David Eldridge, Q.C. Mr. Eldridge was the first lawyer to establish a practice in the Barrington area. Mr. Eldridge, concluding his 35 years practice, has agreed to act "of Counsel" to the firm. David has been considered the pre-eminent solicitor to some of the largest fishing enterprises in Nova Scotia, a tradition our firm will continue.
Allen Fownes also practices extensively in civil litigation, wills and estates, estates litigation and corporate and commercial matters. Allen is well regarded for having provided leadership at the Bar and on the Bench in the Nova Scotia legal community. Its' members contribute greatly to the practice of law and the Greater Halifax community and Allen's practice takes him throughout the province.
Fownes Law is uniquely situated covering five counties from Halifax to Yarmouth which is of benefit to clients with multiple locations themselves, and individuals with relatives or associates in different locations who will find having a local office near to them to be more convenient.
Mr. Fownes benefitted from a nearly 20 year long association with Emanuel Baetich, Esq. until Mr. Baetich's passing in 2013, a highly regarded Manhattan attorney. Fownes Law is able to offer professional legal assistance to Americans on Canadian and Nova Scotian points of law.
If you are a solicitor or attorney seeking representation in Nova Scotia or New York/ New England, Fownes Law enjoys an excellent networking relationship with diverse professionals in the business, corporate, real estate and admiralty sectors throughout and stands ready to assist your needs.